Date Posted, by DCP Staff
While researchers have identified some of the genetic changes that lead to cancer development, a key knowledge gap remains: finding the genetic changes that drive the development of cancers that arise at an earlier age than average (early onset) in racially and ethnically diverse populations.
Early Onset Malignancy Initiative
Participating Sites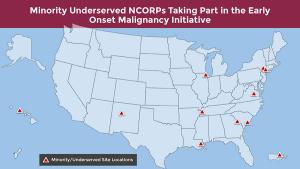 Compared to a White population, people who are Non-Hispanic Black, Hispanic, American Indian or Alaska Native are more likely to develop early age onset cancers and an overall higher incidence and mortality for breast, prostate, colorectal, liver, and kidney cancers, and for multiple myeloma. Although socioeconomic differences and availability of healthcare plays a factor in some health disparities, there are likely to be genetic differences as well.
In 2018, the National Cancer Institute (NCI) Early Onset Malignancies Initiative (EOMI) began investigating, through the collection of biospecimens and characterization of malignancies, why certain racial and ethnic populations are at increased risk of developing cancer at an early age. The EOMI focuses on six cancer types that in certain minority populations develop at an earlier age, occur in higher rates, and are typically more aggressive. By obtaining genomic data and information on treatment and response from underrepresented minorities and comparing them to non-Hispanic Whites, the EOMI may yield important insights into the biology of early disease, tumor progression, and treatment response. The goal is to obtain samples and clinical data for up to 2,400 cases of early age onset cancers.
"Ultimately, we want to understand why some racial and ethnic groups bear a heavier burden of cancer than the general population," explains Worta McCaskill-Stevens, M.D., M.S., chief of the Community Oncology and Prevention Trials Research Group in NCI's Division of Cancer Prevention (DCP). "We need to better understand the possible biological basis of these differences."
For example, based on data from NCI's Surveillance, Epidemiology, and End Results Program (PDF, 70 KB) from 2010-2012, American Indians and Alaska Natives are 1.6 times more likely to develop kidney cancer and nearly twice as likely to die from their disease as non-Hispanic Whites. The highest rates of multiple myeloma occur in Black Americans across all age groups, but especially as an early age onset disease. Hispanic people have almost twice the incidence of liver cancer as non-Hispanic Whites.
The Cancer Genome Atlas (TCGA), a landmark cancer genomics program, molecularly characterized over 20,000 primary cancer and matched normal samples spanning 33 cancer types. However, prospective biospecimens from diverse populations are not adequately represented in TCGA databases to study differences in onset of several cancers, especially in minority and underserved populations in comparison to non-Hispanic Whites. EOMI is a collaboration within NCI (the Center for Cancer Genomics, the Center for Research Strategy and DCP) to fill in that knowledge gap.
The EOMI is focusing on six cancers in specific age ranges:
Breast cancer, ages 18-45
Colon cancer, ages 18-55
Liver cancer, ages 18-55
Prostate cancer, ages 18-55
Multiple myeloma, ages 18-50
Kidney cancer, ages 18-50 (American Indian/Alaska Natives and non-Hispanic Whites only)
While the focus is on early onset cancers in non-Hispanic Blacks, Hispanics, and American Indian and Alaska Natives, samples from non-Hispanic Whites are also sought for comparison.
The NCI Community Clinical Oncology Research Program (NCORP) is recruiting participants at their Minority and Underserved Community Sites across the United States. "By carrying out this study in the NCORP's national network of investigators, cancer center providers, and research institutions, people in racial and ethnic minority populations can more easily take part," said Jennifer Pak, R.N., the nurse consultant in DCP working on the EOMI study. "These NCORP sites have developed strong community-based partnerships and have built trust with local populations."
---
If you would like to reproduce some or all of this content, see Reuse of NCI Information for guidance about copyright and permissions. Please credit the National Cancer Institute as the source and link directly to the blog post using the original title, for example: "Researchers Search the Genome for Clues to Early Age Onset Cancers in Racial/Ethnic Minorities was originally published by the National Cancer Institute." For questions, contact us at CancerPreventionBlog@mail.nih.gov.