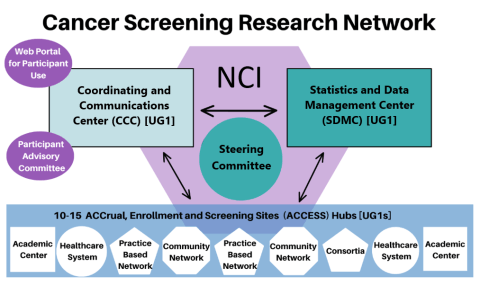 The National Cancer Institute (NCI) is establishing a new Cancer Screening Research Network (CSRN) to conduct trials and studies specifically related to cancer screening. The network will be comprised of Accrual, Enrollment, and Screening Site (ACCESS) Hubs; a Statistics and Data Management Center (SDMC); and a Coordinating and Communication Center (CCC). 
ACCESS Hubs will serve as organizations or groups of organizations that will recruit participants to CSRN trials and studies and participate in the scientific development and implementation of those trials and studies. 
 
The SDMC will provide statistical leadership to ensure effective design, conduct, and analysis of CSRN trials and studies, and will provide centralized data management, expertise, quality control, and reporting.
 
The CCC will coordinate all aspects of study operations and the development and implementation of communication activities, and will provide trial infrastructure, including management of meetings and maintaining protocol and network guideline-related information.
The CSRN will conduct rigorous, multi-center cancer screening trials and studies with large and diverse populations in a variety of health care settings with the ultimate goal of reducing cancer incidence and cancer-related morbidity and mortality. Cancer screening provides a unique opportunity to diagnose cancers and pre-cancerous lesions before symptoms develop. New emerging technologies, including Multi-Cancer Detection assays (MCDs), are rapidly coming forward for commercial availability, though a variety of challenges exist in the design and conduct of randomized controlled trials that evaluate MCD tests to screen for multiple different cancers. As an initial effort, the CSRN will develop a feasibility study, called a Vanguard study, to inform the future design of a platform trial to evaluate multiple different technologies for cancer screening in a flexible but rigorous manner. This study will pave the way for future large-scale clinical trials and other studies developed to assess a variety of cancer screening modalities.
The CSRN will use the NCI Clinical Trials Infrastructure, which includes a variety of integrated electronic systems, applications, and processes, which together facilitate the conduct of cancer clinical trials.