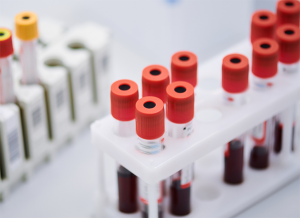 New technologies under development can detect multiple components of a growing cancer, such as circulating tumor cells, tumor DNA, and other analytes, in blood or other body fluids. These tests look for circulating tumor cells, tumor DNA, and other substances that might be present in several different types of cancer. Some of these tests under development are trying to detect cancers at early stages.  These kinds of tests are collectively known as either Multi-Cancer Detection assays (MCDs) or sometimes Multi-Cancer Early Detection assays (MCEDs), or M.C.E.D.s (MCEDs). NCI uses Multi-Cancer Detection (MCD) assays.
The idea of testing for multiple types of cancers simultaneously with a single MCD test is a new and exciting concept for cancer screening. However, there are many unanswered questions about using this very different kind of test, including:
what additional testing is necessary and after a positive test to confirm the presence of a cancer;
what types of cancers are detected by an MCD test and at what stages are these cancers;
which people will derive a net benefit from MCD screening; and
whether MCD tests can be successfully implemented in real-world practice.
This webpage is a gateway to DCP efforts surrounding study of MCD assays for cancer screening.
Update on National Cancer Institute (NCI) Vanguard Study on Multi-Cancer Detection
As a central component of the Cancer Moonshot, the National Cancer Institute is working to launch a new research network to study cancer screening, including evaluating the effectiveness of new blood tests for the detection of one or more cancers to prevent cancer-related deaths. If found to be useful, these type of tests provide the opportunity for less invasive tools for the early detection of cancer. NCI will begin enrolling 24,000 healthy people age 45-70 in 2024 to lay the groundwork for the later, larger study that will enroll up to 225,000 people. The vanguard study is being funded in part by 21st Century Cures Act Cancer Moonshot funds.
Pre-Application Webinars
The NCI Division of Cancer Prevention released three funding opportunities for the Cancer Screening Research Network (CSRN) and held four pre-application interactive webinars in December 2022. Please visit the CSRN website to view videos of the pre-application webinars and to see the Frequently Asked Questions and Answers about the funding opportunities.