Cervical cancer, caused by human papillomavirus (HPV), is highly preventable by HPV vaccination and by early detection and treatment of cervical precancerous changes. Yet, over half of all cervical cancer cases diagnosed in the United States occur in individuals who have never been screened or who are infrequently screened. The barriers that keep people from being screened include socioeconomic disparities, geographic inaccessibility, cultural issues, and a variety of other factors.
NCI Cervical Cancer 'Last Mile' Initiative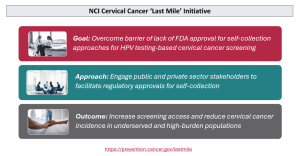 Click to enlarge
An alternative approach to cervical screening is self-collection of vaginal samples ('self-sampling') that can be done at home and sent for HPV testing. This intervention has significant potential to address a persistent cancer health disparity by expanding cervical cancer screening access to reach the 'last mile' which represents individuals who are never screened or under-screened. While the self-sampling method has been implemented in other countries, the US Food and Drug Administration (FDA) is currently reviewing the evidence to consider approval of self-sampling for use in the United States.
The National Cancer Institute (NCI)'s Cervical Cancer 'Last Mile' Initiative is a public-private partnership bringing together federal agencies, industry partners, and professional societies to contribute evidence about the accuracy and clinical effectiveness of self-sampling-based HPV testing for cervical cancer screening. Among its key activities, the 'Last Mile' Initiative is focused on the following:
NCI Cervical Cancer 'Last Mile' Initiative: 
Key Activities
Click to enlarge
facilitating discussions for regulatory approvals of self-sampling
supporting a US-based study of HPV self-sampling, the "Self-sampling for HPV testing to Improve Cervical Cancer Prevention" Trial ('SHIP Trial')
disseminating evidence on self-sampling to change and inform clinical practice.
The SHIP Trial will provide an independent platform to evaluate the usability, acceptability, and accuracy of multiple self-sampling device-assay combinations for the detection of cancer-causing types of HPV.
The SHIP Trial will also evaluate the utility of clinic-based and population-based strategies to implement self-sampling approaches and reach underserved and high-burden populations who are not screened or are inadequately screened for cervical cancer.
"Self-sampling for HPV testing to Improve Cervical Cancer Prevention" Trial ('SHIP' Trial)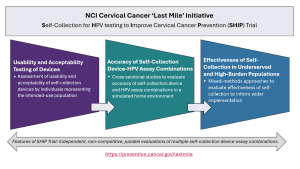 Click to enlarge
At the same time, the NCI is also creating partnerships with professional societies to update clinical practice guidelines for integrating self-sampling approaches into clinical practice after regulatory approvals. Further, the NCI is also developing a publicly accessible repository of self-sampling collection instructions and educational materials for clinicians, community health workers, and intended-use populations.
Overall coordination for the 'Last Mile Initiative'-SHIP Trial is being supported by the Clinical Monitoring Research Program Directorate (CMRPD) of Leidos Biomedical Research, Inc., which operates NCI's Frederick National Laboratory for Cancer Research (FNLCR), a Federally-Funded Research and Development Center.
The SHIP Trial will involve clinical sites across the United States representing a diverse spectrum of healthcare delivery settings. The trial is slated to open in late 2023.