Date Posted, by DCP Staff
The SWOG Cancer Research Network is opening to accrual the MiCHOICE Trial to study the use of decision support tools by women with high-risk breast conditions and their healthcare providers to choose among chemoprevention options. The MiCHOICE Trial was previously mentioned in the November 19 Cancer Prevention Science blog post How Patients and Their Doctors Determine Cancer Risk—and What Happens Next.
Principal investigators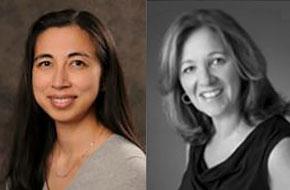 Katherine D. Crew, M.D., M.S., (left) and Rita Kukafka, Dr.P.H., M.A. (right).
About 415 high-risk women and 200 healthcare providers will be enrolled through the NCI Community Oncology Research Program (NCORP) to the cluster randomized controlled trial. The estimated completion date is June 1, 2024. Katherine D. Crew, M.D., M.S., who is a Principal Investigator along with Rita Kukafka, Dr.P.H., M.A., answers a few questions below.
Q. What is the primary objective of the MiCHOICE trial and who is eligible to participate?
A. Our primary objective is to evaluate the effectiveness of a web-based decision support intervention to promote informed decision-making about breast cancer chemoprevention drugs, such as tamoxifen, among women with high-risk breast lesions, such as atypical hyperplasia (AH) or lobular carcinoma in situ (LCIS).
Q. If all of these participants are eligible for chemoprevention for their breast cancer risk, what are we hoping this comparison will show? Do we want them to choose to take prevention drugs?
A. Chemoprevention may not be right for all women, but women with high-risk breast lesions have a particularly high-risk for breast cancer and seem to derive more benefit from anti-estrogen therapy for chemoprevention. The goal of this study intervention is to facilitate more discussions about chemoprevention among these high-risk women. Current U.S. Preventive Services Task Force guidelines suggest that high-risk women should at least have a discussion and be offered chemoprevention by their healthcare providers. 
Q. In the MiCHOICE trial, you are randomizing centers, not participants. Tell us more about how the study will work in that structure and why it is important.
A.This study was designed to test web-based decision support tools from two perspectives: RealRisks for patients and Breast Cancer Risk Navigation (BNAV) for healthcare providers. This is done to avoid bias from the provider/clinical level if randomization occurred solely at the individual patient level. We also want to better understand how this decision support is best implemented into clinical practices. Therefore, 26 sites will be randomized to the study intervention or a control arm of standard educational materials.
Q. What role do perceived and actual breast cancer risks play in women's health choices?
A. We want to help women better understand their actual breast cancer risk so that they can make more informed decisions about chemoprevention. But it's true that women may interpret and perceive their breast cancer risk in different ways and that may also influence their clinical decisions about screening and prevention.
Q. How would you describe the study intervention (i.e. the decision support tools) to help high-risk women choose among chemoprevention intervention options?
A. We have spent the past several years developing and pilot-testing these web-based decision support tools for patients and healthcare providers. RealRisks is the patient-facing decision aid, which collects personalized breast cancer risk information including family history from the patients and includes educational materials, as well as interactive modules to help women better understand their breast cancer risk and the pros and cons of chemoprevention. The tool is available in English and Spanish and has been pilot-tested in a diverse patient population with varying health literacy.
Healthcare providers at sites assigned to the intervention arm will access the online provider-facing BNAV tool. In BNAV, a provider will be able to view education materials on chemoprevention and other breast cancer prevention options, and view summaries of the breast cancer risk profiles of their enrolled patients.
Q. The MiCHOICE trial also looks at how recruitment centers themselves manage the use of decision aids. How will that aspect be examined and what do you hope to learn?
A. In a subset of healthcare providers and patients enrolled in the active intervention arm, we will conduct video or telephone interviews to get their input on the main barriers and facilitators to discussing chemoprevention and how the decision support tools may be implemented into their clinical practice.
Q. Why is this trial important?
A. MiCHOICE will provide evidence on how women with AH or LCIS and their healthcare providers can best be supported in making decisions about breast cancer chemoprevention, such as tamoxifen.
For more information about being a MiCHOICE investigator, contact: swog1904@cumc.columbia.edu.
---
If you would like to reproduce some or all of this content, see Reuse of NCI Information for guidance about copyright and permissions. Please credit the National Cancer Institute as the source and link directly to the blog post using the original title, for example: "Making Informed Choices on Incorporating Chemoprevention Into Breast Care: Q & A with Dr. Katherine Crew on the MiCHOICE Trial was originally published by the National Cancer Institute." For questions, contact us at CancerPreventionBlog@mail.nih.gov.