Subscribe to ULACNet Update.
2023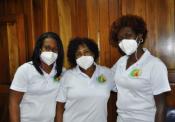 ULACNet Update - January 2023
We present ULACNet-302 Estudio Oportunidad: An opportunity to improve the health of women living with HIV, Recruitment strategies for the ULACNet 201 study in Puerto Rico, and Use of a mobile application as a strategy to reinforce recruitment to an HPV vaccine clinical trial: ULACNET-201.
(Delivered Jan 2023)
---
ULACNet Update - July 2023
In this issue, we present: IPVC Round Up, Women Living with HIV, ULACNet-301 opens in Brazil, ULACNet-202 Site Initiation Visits (SIVs) in Brazil & Mexico, and Training healthcare professionals caring for persons living with HIV in patient navigation services and roles, and clinical trials.
(Delivered Jul 2023)
---
2022
ULACNet Update - April 2022
In this issue, we feature: ULACNet Initiative to Enhance Community Dialogue, Community outreach strategies for recruitment in ULACNet-101 in Puerto Rico, Accrual initiated in Peru for ULACNet-301, an Investigator Spotlight on Dr. Luisa Lina Villa & an introduction to new DCP staff Dr. Silvina Frech.
(Delivered Apr 2022)
---
ULACNet Update - January 2022
This issue recognizes January as Cervical Cancer Awareness Month by presenting four articles entitled, "ULACNet Annual Meeting: A Global Network Together in One (Zoom) Room", "Perseverance Through the COVID Pandemic", "What's In A Name?", and "Lessons Learned from ULACNet-101".
(Delivered Jan 2022)
---
ULACNet Update - September 2022
As we embark on year 4 of ULACNet, this issue highlights successes & opportunities, considers how we respond to the community voice in study recruitment, discusses community participation in ULACNet-201 trial recruitment in Mexico, and presents social media as a recruitment strategy for ULACNet-101.
(Delivered Sep 2022)
---
2021
ULACNet Update - September 2021
In this issue, we feature: ULACNet-101 Getting Ready for Recruitment, ROCCHHA Opens Enrollment in Puerto Rico and Brazil for ULACNet-201, and an interview with Dr. Lenka Kolevic. Translations are available in Spanish and Portuguese.
(Delivered Sep 2021)
---
Last modified: 01/30/2023