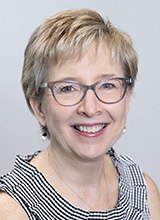 Marge Good, R.N., M.P.H., O.C.N.
Nurse Consultant Program Officer | Community Oncology and Prevention Trials

Email: marge.good@nih.gov
Phone: 240-276-7069
Fax: 240-276-7847
Room: 5E434
Biography
Marge Good is a nurse consultant in the Division of Cancer Prevention where she provided support to the Community Clinical Oncology Programs (CCOP) and Minority-Based CCOPs, and now provides support to the NCI Community Oncology Research Program (NCORP). She has over 30 years of oncology nursing and over 20 years of prior experience as the administrator of a successful CCOP.  She uses her past experiences to lead efforts to increase clinical trial accrual, address accrual barriers, evaluate accrual strategies, mentor new community clinical trial sites, and contribute to the evaluation of the community clinical trials programs.
She has been a 30-year member of the Oncology Nursing Society (ONS), serving in the past as local chapter president, coordinator for the Clinical Trial Nurses Special Interest Group, and other national ONS committee appointments. She also has been actively involved in the American Society of Clinical Oncology (ASCO), serving on the Research Committee and Community Research Forum Quality Assessment and Clinical Trial Workload Assessment Working Groups. Previously, she served as the Nursing Committee Chair for a large cooperative group, as well as a disease and administrative committee member and nurse auditor.
Research Interests
Community-based research
Assessing and monitoring clinical trial-associated workload