Date Posted
Dear Nutrition Enthusiast,
This issue showcases results from the VITAL trial on vitamin D and omega-3 fatty acids on kidney function, anti-colonic inflammation properties of black raspberry, and the reversal of the Warburg effect by sulforaphane in prostate cancer. Meet our spotlight investigator, Dr. Demark-Wahnefried.
RESEARCH UPDATE: ON THE CLINICAL FRONT
Vitamin D & Omega-3 Fatty Acid Supplementation on Kidney Function in Patients with Type 2 Diabetes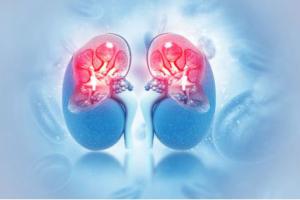 Low circulating concentrations of 25-hydroxyvitamin D and plasma omega-3 fatty acid concentrations have been observed with chronic kidney disease (CKD) in individuals with type 2 diabetes (T2D). In a subset of 1312 men and women with T2D from the Vitamin D and Omega-3 Trial (VITAL), which was a randomized, double-blind, placebo-controlled trial of vitamin D and omega-3 fatty acids for the prevention of cardiovascular disease and cancer, de Boar and colleagues evaluated the efficacy and safety of supplementation of vitamin D3 (2000 IU/d) and omega-3 (total 1 g/d; EPA/DHA) for the prevention and treatment of CKD. No significant differences emerged in those taking vitamin D3 or omega-3 fatty acid supplements compared to placebo regarding glomerular filtration rate or urine albumin excretion. Further no significant interaction between treatment assignments occurred. These results suggest vitamin D or omega-3 fatty acid supplementation may not preserve kidney function or prevent CKD progression in adults with T2D.
Announcements
Registration is open for the virtual John Milner Nutrition and Cancer Prevention Research Practicum which will be held March 9-11, 2021. The 3 half-day learning sessions provide specialized instruction in the role of diet and bioactive food components as modifiers of cancer incidence and tumor behavior. The practicum is free to attend and open to all. Learn more about the practicum and register.
Past Stars in Nutrition and Cancer lectures are available and are approved by the CDR for 1 CPE credit for RDNs.
NCI and NIH continue to monitor the emergency and will continue to issue guide notices and update FAQs and additional resources. All information can be found on the Coronavirus Disease 2019 (COVID-19): Information for NIH Applicants and Recipients of NIH Funding page.
Upcoming Virtual Events

March 4, 2021
Why are Individuals with Obesity from Racially / Ethnically Diverse Backgrounds at Increased Risk for Cancer, Obesity and Cancer Webinars, National Cancer Institute, NIH

March 9-11, 2021
John Milner Nutrition and Cancer Prevention Research Practicum, National Cancer Institute, NIH

March 11, 2021
Intersectionality of Obesity, Cancer and Basic / Translational Health Disparities Research, Obesity and Cancer Webinars, National Cancer Institute, NIH

March 11, 2021
Defining and Managing Cachexia at the Individual Level, Body Composition and Cancer Outcomes Research Webinar Series, National Cancer Institute, NIH

March 15, 2021
Targeting Aging to Transform Human Health, Obesity and Cancer Webinars, National Cancer Institute, NIH

March 18, 2021
Intersectionality of Obesity, Cancer and Health Disparities in Clinical Research, Obesity and Cancer Webinars, National Cancer Institute, NIH

March 18-20, 2021
NCCN Virtual Annual Conference, National Comprehensive Cancer Network

March 20-23, 2021
ASPEN 2021 Nutrition Science & Practice Virtual Conference, American Society for Parenteral & Enteral Nutrition

March 25, 2021
Intersectionality of Obesity, Cancer, Health Disparities and Population / Community-Based / Behavioral Research (including Food Insecurity), Obesity and Cancer Webinars, National Cancer Institute, NIH

April 10-15, 2021
Week 1: AACR Annual 2021 Virtual Meeting, American Association for Cancer Research

April 15, 2021
Body Composition and Cancer Outcomes Research Webinar Series, National Cancer Institute, NIH, 2021

April 27-30, 2021
Experimental Biology 2021 Virtual Meeting, Experimental Biology

May 17-21, 2021
Week 2: AACR Annual 2021 Virtual Meeting, American Association for Cancer Research

June 7-10, 2021
ASN Nutrition Live On-Line 2021 Conference, American Society for Nutrition
RESEARCH UPDATE: WHAT'S NEW IN BASIC SCIENCE
Anti-colonic Inflammation by Black Raspberries
Chemoprevention is a potentially promising approach for preventing the progression of ulcerative colitis (UC) to cancer. In colon cancer mouse models, black raspberries (BRBs) have been shown to reduce chronic inflammation. Huang and colleagues found that BRBs decreased colonic inflammation in the mucosa and submucosa in interleukin (IL)-10 knockout (KO) mice. BRBs decreased the percentages of macrophages in spleens of these mice and significantly decreased serum amyloid A, an apo-lipoprotein produced by the liver responding to proinflammatory cytokines from active monocytes in circulating blood. Furthermore, BRBs decreased upregulated toll-like receptor signaling in cells from the colon and spleen, decreased PGE2 and prostaglandin I2, and increased 15-lipoxygenase and eicosanoids in the lipoxygenase pathway in the plasma. These results elucidated anti-inflammatory mechanisms of BRBs and identified pathways and/or biomarkers that could be indicators of response in UC patients treated with these berries.
Reversal of Warburg Effect by Sulforaphane in Prostate Cancer
Prostate cancer and other malignant diseases are thought to be accompanied by metabolic re-programming including increased glycolysis and fatty acid synthesis. Singh and colleagues recently utilized human prostate cancer cell lines, 2 different transgenic mouse models (TRAMP and Hi-Myc), and plasma specimens from a clinical study. Sulforaphane (SNF) decreased extracellular acidification rate in androgen-dependent LNCaP cell lines, significantly downregulated expression of hexokinase II (HKII) and lactate dehydrogenase A (LDHA) in vitro in cells and in vivo in neoplastic lesions in the prostate of TRAMP and Hi-Myc mice, and significantly suppressed glycolysis in prostate of Hi-Myc mice when a mild regimen of SNF given 3 times/week (1 mg/mouse) was provided. Inhibition of Myc-regulated expression of HKII and LDHA was partially responsible for the reversal of the Warburg effect by SFN. Clinical studies are necessary to determine whether SFN administration can decrease lactate production in human prostate tumors.
SPOTLIGHT INVESTIGATOR: WENDY DEMARK-WAHNEFRIED
Wendy Demark-Wahnefried, Ph.D., R.D. is Professor and Webb Endowed Chair of Nutrition Sciences and Associate Director for Cancer Prevention and Control at the O'Neal Comprehensive Cancer Center at the University of Alabama at Birmingham. Her research ranges from determining mechanisms of action of nutrition-based therapies to developing and testing home-based interventions that are scalable, and which improve diet, physical activity and functional status among cancer survivors. To date, this research has been supported by 15 NIH grants and has resulted in over 300 peer-reviewed publications. Dr. Demark-Wahnefried has been recognized as a Komen Professor of Survivorship and an American Cancer Society Clinical Research Professor. She has served on several committees, including the National Cancer Policy Forum of the National Academy of Sciences, guidelines panels of the American Cancer Society, World Cancer Research Fund, American College of Sports Medicine, and American Society of Clinical Oncology, the Biden Cancer Initiative, and as a study section member for the NIH Center of Scientific Review. Currently, her research teams are testing the impact of a vegetable gardening intervention among cancer survivors across Alabama, and a web-based weight loss diet and exercise program among older survivors of obesity-related cancers.

Read more about Dr. Demark-Wahnefried
Did You Know?
Garlicky Garlic: A Cut Above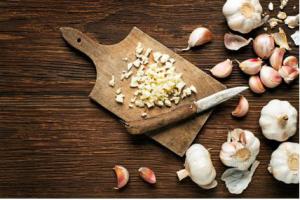 Garlic (Allium sativum L.), a world-known culinary spice, is part of the grass-like flowering plants of the Allium genus which includes onions, chives, shallots, and leeks, and among the oldest cultivated plants in the world. A native to central Asia, appreciation of garlic's medicinal properties traces back thousands of years to China, Egypt, Greece, India and Rome, even Hippocrates propounded garlic's use as a diuretic and laxative. This bulbous vegetable represented strength and was chewed by Roman soldiers before entering battle and was used as a natural stimulant at the first Olympic games in Greece! Garlic is rich in selenium, inulin, saponins, flavonoids, oligosaccharides, and arginine. Yet, it is best known for allicin, a sulfur-containing thiosulfinate, which is activated when garlic's edible bulb is crushed, hence the pungent aroma.
To maximize garlic's many potential health benefits, be sure to smell that garlicky aroma by mashing or crushing garlic and waiting 10-minutes to allow alliinase to produce allicin. Once formed, allicin is stable for 2-3 days so chopping your garlic ahead of time is an easy way to add a hit of flavor to your favorite sandwich or condiment. Want a more mellow taste - try roasting garlic or adding it to this winter soup. Either way, just a little mincing makes garlic a cut above.