Date Posted
Dear Nutrition Enthusiast,
This issue we showcase genetically predicted circulating PUFAs and colorectal cancer risk, miRNAs as early indicators of lifestyle changes in women with breast cancer, and how antibiotics, historically used in preclinical studies of folate depletion, may perturb various energy metabolism pathways.
RESEARCH UPDATE: ON THE CLINICAL FRONT
Mendelian Randomization of Circulating PUFAs and Colorectal Cancer Risk
Prostaglandin E2 (PGE-2), a nutrition-related inflammatory metabolite known to influence colorectal carcinogenesis, is generated via metabolism of arachidonic acid (AA), an omega-6 polyunsaturated fatty acid or PUFA, via the COX-2 enzyme and is often overexpressed in colorectal cancer. While omega-3 PUFAs are also metabolized by COX-2, they have not been implicated in carcinogenesis. Using Mendelian randomization and examining the combined effects of aspirin/NSAID use with PUFAs, Khankari and colleagues leveraged information from genome-wide association studies regarding PUFA-associated SNPs and created weighted genetic scores representing genetically predicted circulating blood PUFAS for 11,016 non-Hispanic white colorectal cancer cases and 13,732 controls. A 6% increased colorectal cancer risk was observed among those with higher genetically predicted circulating levels of omega-6 PUFA AA. Interestingly, modest increased risks were also observed for EPA and DPA. The shorter-chain PUFAs, LA and ALA, were associated with reduced colorectal cancer risk. These associations were stronger among aspirin/NSAID nonusers. Future research should continue to improve PUFA genetic instruments to elucidate the independent effects of PUFAs on colorectal cancer.  
miRNAs as Early Indicators of Lifestyle Changes with Metastatic Breast Cancer
MicroRNAs (miRNAs) are regulators in the proliferation, migration and self-renewal of stem cells, and are dysregulated in metastatic breast cancer (MBC). Moreover, circulating miRNAs are candidate biomarkers of early cancer detection and prognosis. Olson and colleagues evaluated differentiating markers of lifestyle intervention response by molecular profiling of 84 circulating miRNAs in 35 clinically stable MBC women, randomized into a 12-week intervention of weekly dietary and fitness lifestyle coaching. Three miRNAs, miR-10a-5p, miR-205-5p and miR-211-5p, were upregulated in responders and significantly differentially expressed between responder and non-responder postintervention groups. Circulating miR-10a-5p was negatively correlated with expression levels of IL-6; and both miR-205-5p and miR-211-5p were associated with breast cancer progression. These findings suggest the change in expression levels in the three miRNAs identified are linked to processes that regulate oncogenic response and may be early predictors of lifestyle intervention response. Further studies with larger cohorts of MBC patients participating in lifestyle interventions are needed to better understand circulating miRNAs as biomarkers and targets to improve quality of life and patient outcomes.
RESEARCH UPDATE: WHAT'S NEW IN BASIC SCIENCE
Antibiotics Can Perturb Various Energy Metabolism Pathways via a Folate Independent Mechanism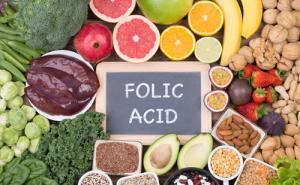 The antibiotic, succinylsulfathiazole (SST), a long-acting sulfonamide, can produce large shifts in the composition of the gut flora and the ability to synthetize folate. SST has been used extensively in studies to reduce or limit the folate producing bacteria in various lab models to study the effects of folate depletion. In a recent study, Beydoun and colleagues did not observe any difference on growth and weight gain at 21 weeks in C57BL6 mice supplemented with SST on either a folate adequate diet or a folate depleted diet. However, SST altered energy metabolism and expression of key genes in the mTOR signaling pathway in the liver on either folate diet. Further research will be required to evaluate the complexity of the host-microbiome interactions and how antibiotics such as SST can perturb various pathways involved in energy sensing, metabolism, growth, and oxidative stress.
SPOTLIGHT INVESTIGATOR: MARIAN FITZGIBBON
Marian L. Fitzgibbon, Ph.D. is Professor of Pediatrics in the School of Public Health at the University of Illinois at Chicago. She has been a funded researcher in the area of cancer risk reduction for more than 20 years. Her work focuses on obesity prevention in high-risk populations, including minority and under-represented children and obesity treatment among both African American and Hispanic women. She has conducted obesity prevention trials with preschool children and their parents as well as obesity treatment interventions with women. Dr. Fitzgibbon has extensive experience in conducting both prevention and treatment interventions with obesity-related co-morbid conditions. She has led teams that have a strong track record of both recruiting high-risk populations and following them for up to three years with excellent retention. Currently, she is the Principal Investigator of an R01, Mediterranean Diet and Weight Loss: Targeting the Bile Acid/Gut Microbiome Axis to Reduce Colorectal Cancer.
Read more about Marian Fitzbibbon
Did You Know?
Mangosteen: The Purple Wonder
The esteemed purple mangosteen, hails from the tropical evergreen tree, Garcinia mangostana L. (Clusiaceae), native to Southeast Asia. Its delicate flavor has caught the wonder of poets over the years and earned it the epithet "Queen of Fruit." Mangosteen's seeds and dark ruby-red pericarp traditionally have been used to treat infection, wounds, and inflammation. This fresh tropical delight is a good source of vitamin C, copper, manganese, magnesium, potassium; and rich in polyphenolic compounds including at least 68 different forms of xanthones, notably α and γ mangostin, which offer antioxidant, anti-inflammatory, anti-cancer, and neuroprotective activities/properties.
Choose firm, fresh mangosteens that yield slightly to pressure and break open mangosteen's leathery skin to reach mangosteen's lush fragrant fruit. Be sure also to use the nutrient-dense pericarp, which has higher concentrations of many xanthones! Mangosteens are a great summer addition to stir fry, salads, smoothies, parfaits and desserts and add an extra boost of phytonutrients with a refreshing floral essence. A little party trick…flip your mangosteen over to count the number of petals on the bottom. The petals coincide with how many lush segments you will find in that mangosteen. Once procured – refrigerate and enjoy the "Purple Wonder" within a few days!