Date Posted
Dear Nutrition Enthusiast,
This issue we highlight diet quality on COVID risk and severity, along with kava's role in lung cancer in active smokers, as well as lifelong exposure of bioactives such as ECGC and sulforaphane from green tea and broccoli sprouts. Meet our spotlight investigator, Dr. Igor Pogribny.
RESEARCH UPDATE: ON THE CLINICAL FRONT
Diet Quality and Risk and Severity of COVID-19
Evidence for the influence of diet on COVID-19 risk and severity is limited, despite unhealthy lifestyle factors and poor metabolic health such as obesity, being associated with increased risk and severity of COVID-19. In a recent observational study, Merino and colleagues assessed pre-pandemic diet with a self-reported food frequency questionnaire and diet quality with the healthful Plant-Based Diet Score (hPDI score), along with severity of COVID-19 and interaction with socioeconomic deprivation, from the Epidemiology Consortium, a UK and US smartphone-based COVID-19 Symptom Study from March to December 2020. A high hPDI diet score, characterized by healthy plant-based foods, was associated with lower risk and severity of COVID-19. This observation was more evident among individuals living in areas higher in socioeconomic deprivation. The joint association of low diet quality and increased socioeconomic deprivation on COVID-19 risk was higher than the risks associated with each individual factor. The study findings suggest that access to healthy foods and improving nutrition are likely to decrease the pandemic burden.
Announcements
Transdisciplinary (TD) Training Opportunity in Energetics and Cancer!
Applications now being accepted.
The
Transdisciplinary Research on Energetics and Cancer (TREC) Training Workshop
is a 5-day, in residence Workshop which places emphasis on developing and applying transdisciplinary (TD) and translational (TL) competencies focused on energetics (i.e., obesity, diet and exercise) and cancer. The 6th annual course will be held
June 19-24, 2022
, at Water's Edge Resort, Westbrook, CT, U.S.A. costs will be covered. Notification of Intent to apply is due no later than
December 15, 2021.
Full application is due no later than Friday,
January 14, 2022
. For more detail and to apply, visit
TRECTraining.yale.edu
.
Questions:
contact Diana Lowry
dlowry@fredhutch.org
.

Notice of Special Interest (NOSI): Dietary, Physical Activity, Sedentary Behavior and Sleep Assessment Methodologies Among Infants and Young Children (Birth to 5 years) through Adults
NOTICE NUMBER: NOT-CA-21-108
Expires: May 8, 2023
Notice of Special Interest (NOSI): Dietary Effects on Nutrient Sensing Pathways in Tumor Etiology and Prevention
NOTICE NUMBER: NOT-CA-21-121
Expires: September 08, 2024
Upcoming Events

December 6, 2021
(2:00 p.m. - 3:30 p.m. EST) Virtual Webinar: Accelerating the development of pediatric physical activity interventions

December 8, 2021
(10 a.m. -12:30 p.m. EST) Virtual Food Forum Meeting: Microplastics from Food and Water: State of the Science and Potential Impacts on Human Health

April 2-5, 2022
Philadelphia, PA, American Physiological Society Annual Meeting at Experimental Biology

April 8-13, 2022
New Orleans, LA, American Association for Cancer Research: Decoding Cancer Complexity | Integrating Science | Transforming Patient Outcomes

May 16-18, 2022
(Virtual) 42nd National Nutrient Databank Conference: 125 years of Food Composition: Where We've Been and How We're Evolving Globally

June 14-16, 2022
(Virtual), American Society for Nutrition: Nutrition Live Online 2022: Where the Best in Science and Health Meet
Kava Dietary Impact on Biomarkers of Tobacco Use and Nitrosamine-based Carcinogenesis Risk among Active Smokers
The addictive nature of nicotine in tobacco and the carcinogenicity of 4-(methylnitrosamino)-1- (3-pyridyl)-1-butanone (NNK) and other compounds are principal risk factors for lung cancer. Kava, a commonly consumed South Pacific Island beverage used to promote calmness, may reduce lung cancer risk by decreasing NNK-derived DNA damage and enhancing NNK detoxification. Wang and colleagues conducted a pilot clinical trial to evaluate the safety and effects of a 7-day course of 75 mg of kava-specific lactones on NNK metabolism in 21 active smokers. They found kava increased major urinary metabolites of NNK, particularly urinary total 4-(methylnitrosamino)-1-(3-pyridyl)-1-butanol (NNAL), suggesting enhanced NNK/NNAL clearance; along with reduced urinary 3-methyladenine in participants, indicative of kava's ability to reduce NNK carcinogenicity. Urinary total nicotine equivalents, as well as plasma and urinary total cortisol equivalents were reduced upon kava use, signifying kava's potential to facilitate reduction in tobacco use. Kava had no impact on liver function and urinary kava lactone dihydromethysticin (DHM), detected only after kava initiation, may be a potential measure of kava exposure. Future clinical trials will further elucidate kava's mechanisms, active ingredients, and potential role in smoking cessation to decrease lung cancer risk.
RESEARCH UPDATE: WHAT'S NEW IN BASIC SCIENCE
Prevention of ER- Mammary Cancer with Lifelong Exposure to Combined Broccoli Sprouts and Green Tea Polyphenols
Early maternal exposure of combined bioactive compounds play an important role in tumor cell cycle progression and apoptosis in mammary tumor cell cycle in offspring. Li and colleagues investigated the lifelong impact of dietary broccoli sprouts (BSp) and green tea polyphenols (GTPs) in forty female HER2/neu mice randomly divided into 4 groups (control, BSp, GTPs, or combined BSp + GTPs) from dams' conception until pups were 29 weeks. Dietary BSp or/and GTPs suppressed tumor growth and the combined BSp + GTPs treatment significantly reduced tumor volume over time compared to the control group. All 3 dietary treatments significantly increased tumor suppressor proteins PTEN, P16, and P53, with combined treatment having the strongest effect. BSp and/or GTPs induced cell cycle arrest by downregulating cyclins and cyclin-dependent kinases and decreased expression of tumor-promoting proteins MYC, TERT and BMI1 along with regulating BAX and BCL2 proteins to promote apoptosis. Combined dietary treatment also had a stronger effect on inhibiting expression of epigenetic-related enzymatic modulators. These findings provide mechanistic insight on the lifelong synergistic effects of consuming the combined bioactive components BSp and/or GTP as a cancer prevention approach against ER- mammary tumor initiation and progression.
SPOTLIGHT INVESTIGATOR: IGOR POGRIBNY
Igor Pogribny, M.D., Ph.D. is the recipient of the 2006 FDA Outstanding Service Award and 2011 FDA Commissioner's Special Citation Award. Dr. Pogribny's research interests elucidate the role and significance of genetic and epigenetic alterations in the development and progression of cancer, investigate and establish the role of epigenetic alterations as indicators of exposure to genotoxic and non-genotoxic carcinogens—critical for the primary prevention of neoplasia in humans, and focus on nonalcoholic fatty liver disease (NAFLD). Dr. Pogribny's laboratory aims to better understand the role of individual genetic and genomic—including epigenomic—susceptibility factors in the development of NAFLD. Identification of these susceptibility factors may facilitate the development of diagnostic tools that can be used to identify high-risk individuals to help prevent NAFLD-related liver cancer. Dr. Pogribny received interagency funding for Genomic and Genetic Determinants of the Susceptibility to Non-Alcoholic Fatty Liver Disease (NAFLD) and NAFLD-Related Liver Cancer.
Read more about Dr. Igor Pogribny
Did You Know? Sage is the Purifying Herb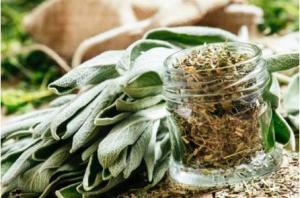 Sage or Salvia officinalis, native to the Mediterranean region, is a savory, slightly peppery aromatic medicinal herb part of the Lamiaceae family, which includes oregano, rosemary, thyme, and mint. Sage's highly aromatic oval, gray-green leaves have an earthy smell and contain many volatile essential oils, including 8-cineole (eucalyptol), which is thought to soothe rashes. In folk medicine, sage has been valued for its antimicrobial properties and used to manage cognition, gout, ulcers, tremors, diarrhea, and hyperglycemia. The Romans, like many cultures considered it a sacred herb and several indigenous tribes have the practice of burning sage (smudging) to purify the air and a person's aura.
Sage tea is a favorite, but best to drink in moderation (3-6 cups max a day) since some varieties of sage are rich in the bioactive component thujone, which quickens the senses, and improves attention and concentration, but can also be a mild psychoactive. Sage is abundant in phenolic compounds including rosmarinic acid, genkwarin, luteolin, caffeic acid, carnosol, and carnosic acid is rich in flavonoids, catechins, tannins, vitamin A and K. Only 1 teaspoon of fresh sage provides 10% of the daily recommended amount of vitamin K! This season, add the slightly woodsy lemon flavor of sage in stuffing, sausages, or other meats; and try different varieties – the common garden sage, fresh-smelling Spanish sage, pungent Greek sage, or the pineapple scented sage.
References: