Date Posted, by Vikrant Sahasrabuddhe, M.B.B.S., M.P.H., Dr.P.H.
Cervical cancer can be prevented by human papillomavirus (HPV) vaccination and by screening for and treating precancerous lesions. Yet, millions of women globally remain at high-risk for developing cervical cancer. This is especially true for women living in resource-limited settings in low- and middle-income countries (LMICs) where access to prevention services is significantly limited. But this is also true for women facing health disparities within the United States, where half of all cervical cancers occur in women who have never been screened or rarely screened.
Women living with HIV are an especially vulnerable population—with a five-to-six-fold higher risk for cervical cancer than women in the general population. With increasing access to affordable antiretroviral therapy over the past couple of decades, lifespans of women with HIV have been increasing. Yet these women remain at significantly higher risk for cervical cancer development and progression because of limited access to adequate screening and precancer treatment services, and lack of optimized algorithms for clinical management and care. An emphasis on early detection via screening and precancer treatment is particularly vital for women living with HIV since a large majority are already infected with HPV and for whom current prophylactic HPV vaccines may offer little to no protection.
To address the outstanding questions on the complex "cascade" of preventive care encompassing screening, management, and precancer treatment for cervical cancer in women living with HIV, NCI's Division of Cancer Prevention (DCP) has launched a new clinical trials network. The 'CASCADE' network brings together teams of committed clinical and public health researchers from both the U.S. and LMICs to conduct pragmatic clinical trials and answer questions around clinical dilemmas, operational issues, and comparative effectiveness of prevention interventions of innovative screening and precancer treatment interventions and approaches for women with HIV. The multidisciplinary teams in the network will design and conduct these trials in "intended-use" real-world environments in resource-limited settings in LMICs, as well as in areas of health care disparities within the U.S., to gain insights on eventual implementation and scale-up of these interventions in these settings.
Within a multi-institutional organizational framework, the CASCADE network includes three types of collaborative organizational units (Research Bases, Clinical Sites, and Coordinating Center) working in partnership with NCI. The four scientific areas of focus include increasing screening uptake, improving management of screen positives, facilitating precancer treatment access, and optimizing precancer treatment access for women living with HIV. With shared decision-making through the Network Steering Committee, participants in the CASCADE network will share complementary responsibilities in all steps from trial conceptualization and conduct to completion and dissemination.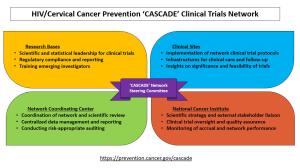 The newly launched network cumulatively spans 15 institutions and 30 investigators, and includes a coordinating center, three research bases, and an initial set of three clinical sites in Uganda, Kenya, and Botswana. These countries face a high dual HIV and cervical cancer burden and have several ongoing service delivery efforts supported by funding from the U.S. President's Emergency Plan for AIDS Relief (PEPFAR) program. (For more details, please see CASCADE Network Organizational Units). The awardees are experienced scientific leaders and clinical care providers with capabilities to collaboratively conduct these pragmatic clinical trials aimed at changing clinical practice and influencing global guidelines for cervical cancer prevention for women living with HIV.
In addition, to expand the 'CASCADE' network, DCP is inviting applications for funding five additional clinical sites, from both LMICs and U.S. settings in fiscal year 2023. (RFA-CA-22-051, deadline Dec 28, 2022).
Applicants for sites in LMICs are expected to have a major focus on vulnerable women with HIV receiving clinical care services through ongoing service delivery initiatives funded by national programs or bilateral or multilateral initiatives that seek to advance global efforts for eliminating cervical cancer as a public health problem. At least two of the new sites will be in the U.S., where applicants are expected to focus on underserved women with HIV who may not receive adequate access to care due to fragmented and less-organized health care delivery systems. In fact, health care, socioeconomic, and racial/ethnic disparities substantially affect the burden of both HIV/AIDS and cervical cancer in the U.S., where one in five women living with HIV do not receive their recommended cervical cancer screenings.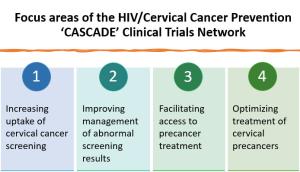 The CASCADE network is DCP's second international clinical trials network in HPV/cervical cancer prevention, after the 2019 launch of the US-Latin American-Caribbean HIV/HPV-Cancer Prevention Clinical Trials Network (ULACNet). Efforts in these networks are expected to contribute to the evidence on optimization of cervical cancer prevention interventions and add momentum to efforts for reducing the global burden of cervical cancer.
---
If you would like to reproduce some or all of this content, see Reuse of NCI Information for guidance about copyright and permissions. Please credit the National Cancer Institute as the source and link directly to the blog post using the original title, for example: "Launching 'CASCADE': A Clinical Trials Network to Optimize Cervical Cancer Screening and Precancer Treatment for the Vulnerable Population of Women Living With HIV was originally published by the National Cancer Institute." For questions, contact us at CancerPreventionBlog@mail.nih.gov.