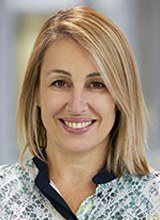 Silvina Frech, Ph.D., M.S.
Program Officer | Breast and Gynecologic Cancer

Email: maria.frech@nih.gov
Phone: 240-276-5302
Room: 5E218
Biography
Silvina Frech, Ph.D., M.S. brings more than 20 years of experience in cancer research and control in low- and middle-income countries (LMICs). During the last 5 years, she played key roles at the start-up leadership team of a Swiss non-profit organization (City Cancer Challenge Foundation) that designed, developed and implemented a framework aimed at improving sustainable and equitable access to quality cancer care in cities in LMICs through evidence-based interventions and multisectoral partnerships. Dr. Frech spearheaded the early implementation of the City Cancer Challenge initiative in Latin America, developed and implemented its program sustainability framework, and led the implementation framework´s publication series in the Journal of Clinical Oncology-Global Oncology.
From 2009 until 2016, Dr. Frech served as a contractor to the National Cancer Institute, initially working on the implementation of an international cancer research network. Her work at the NCI Center for Global Health focused on strengthening the capacity of Latin American countries on cancer research and control through technical assistance and global health diplomacy. For that work, Dr. Frech received the NCI Director's Award to the "International Cancer Control Leadership Forum Group" for exceptional efforts in supporting LMICs in the development of National Cancer Control Plans for cancer prevention and control.
Dr. Frech received her B.S. in Pharmacy from Universidad Nacional de Rosario in Argentina in 1996, her M.S. in Biochemistry and Molecular Biology in 2001, and her Ph.D. in Cancer Biology in 2006, both at Georgetown University in Washington, DC. Her doctoral and postdoctoral research work focused on understanding the role of the Estrogen Receptor and Cyclin D1 in mammary gland development and carcinogenesis, and the mechanisms of action of agents used to reverse neoplasia in transgenic mouse models. Dr. Frech has authored or co-authored publications in high-impact journals such as The Lancet, the Journal of Clinical Oncology-Global Oncology, Cancer Research, and Science Translational Medicine.