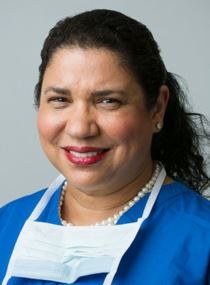 Luz Maria Rodriguez, M.D., F.A.C.S.
Program Officer | Gastrointestinal and Other Cancers

Email: luz.rodriguez@nih.gov
Phone: 240-276-7039
Room: 5E228
Biography
Dr. Luz Maria Rodríguez is a board-certified general surgeon and a dual fellowship-trained surgical oncologist and colorectal surgeon who serves as a Program Director and Medical Officer in the Gastrointestinal and Other Cancers Research Group in the NCI Division of Cancer Prevention. She is responsible for developing and supporting ongoing early Phase 0-II prevention clinical trials through protocol development, scientific reviews, and strategic planning. The program seeks to fill the research void between preclinical studies and Phase III trials by emphasizing intervention effects on at-risk tissue-intensive collections and invasive biomarker monitoring. She oversees chemoprevention and treatment trials in organ sites such as the liver, pancreas, stomach, and colon that use study agents such as vaccines, simvastatin, atorvastatin, lisinopril, berberine, curcumin, metformin, erlotinib and aspirin. She is part of the Adjudication Cancer Committee of the ASPREE (ASPirin in Reducing Events in the Elderly) study and the Prostate, Breast, Colon Cancers Working group at ASPREE.
Prior to joining DCP, Dr. Rodriguez was a translational physician-scientist in the NCI Genetics Branch while at the National Naval Medical Center in Bethesda, Maryland. Her lab studied genome-wide gene expression profiles in colonic mucosa of populations at risk, an expression profiling approach that created a foundation for biomarkers of early colon cancer detection and prevention. She developed a Clinical Cancer Genetics Program devoted to risk surveillance, assessment, genetic testing, counseling, prevention and targeted intervention for individuals at increased risk for specific cancers. These protocols involved testing and identification of biomarkers that might be candidates for intermediate endpoints in treatment and prevention trials. Moreover, her lab was the first to study the genetic profile comparison of right vs. left in Lynch Syndrome patients.
Dr. Rodríguez also is a senior staff/faculty surgeon at the Uniformed Services University of the Health Sciences (USUS) and Walter Reed Military Medical Center, for more than 21 years serving domestic, foreign families and dignitaries in GI diseases/cancers, pelvic floor disorders, soft tissue sarcoma and breast disease. She is an Advance Trauma Life Support (ATLS) instructor at USUS, equipping individuals in ATLS globally. She trains medical students, residents and fellows in oncology, surgery, and cancer prevention. She is a consultant nationally and internationally with scientific and clinical groups specially focused on GI diseases with the hope of narrowing the gap in cancer intervention. Dr. Rodríguez is trilingual Spanish, French and English and serves as an advisor on health disparities in the U.S., Latin America, and Africa.