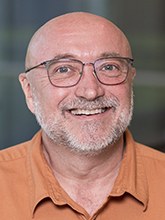 Gary Della'Zanna, D.O., M.Sc.
Program Officer Contracting Officer Representative | Gastrointestinal and Other Cancers

Email: gary.dellazanna@nih.gov
Phone: 240-276-7042
Room: 5E234
Biography
Dr. Gary Della'Zanna is a board-certified general surgeon who serves as a Program Director and Medical Officer in NCI's Division of Cancer Prevention in the Gastrointestinal and Other Cancers Research Group (GOCRG). He is responsible for overseeing the design, implementation and conduct of Phase I/II gastrointestinal cancer chemoprevention trials.  He helped establish and has chaired the DCP Safety Committee since 2014 and was a founding member of the DCP's Central Institutional Review Board (CIRB) Operations Team.
Prior to joining the National Cancer Institute, he was Director of the FDA's Division of Scientific Investigations. While working at the FDA, he helped develop Anne Arundel Medical Center's Surgical Hospitalist program—the first in the state. He continues to work in surgery part-time outside of his normal work schedule. 
He is a member of Maryland's Emergency Response Physician Volunteer Corps and a past member of Maryland's Board of Physicians.