Date Posted, by DCP Staff
The National Cancer Institute's (NCI's) Board of Scientific Advisors (BSA) recently approved two new concept proposals aimed at expanding potential prevention interventions. One will strengthen research in the nascent field of immunoprevention, and the other will accelerate the development of novel natural products for intercepting cancer at the earliest stages of disease.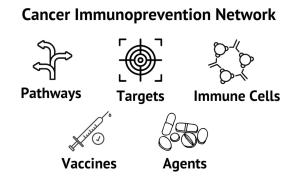 The board's actions will provide $48 million in funding for the creation of a Cancer Immunoprevention Network (CIP-Net) (PDF, 520 KB) and up to $23 million over 5 years to support discovery and development of new natural products (PDF, 992 KB) that are safe, nontoxic, and efficacious for cancer interception and prevention.
The two programs were given the go-ahead at a joint meeting of the National Cancer Advisory Board and NCI's BSA in December 2022. Funding Opportunity Announcements for both programs will be released later in 2023.
Advancing Understanding of Immunoprevention
The Cancer Immunoprevention Network (CIP-Net) (PDF, 520 KB) is comprised of two complementary and synergistic components:
Projects on discovery of novel immunoprevention pathways and immune targets; preclinical development and testing of interventions (agents/vaccines); and investigating mechanisms of efficacy and potential side effects for precision cancer prevention-interception; and
A resource coordinating center to facilitate data and resource sharing among scientists in the immunoprevention community.
The overarching concept behind CIP-Net's creation is "to support a better understanding of the basic mechanisms of immunoprevention and the discovery and development of novel immunopreventive strategies and foster a community of cancer immunoprevention researchers," according to the funding justification presented by Altaf Mohammed, Ph.D., a program director for the Chemopreventive Agent Development Research Group in NCI'S Division of Cancer Prevention (DCP), and Lillian Kuo, Ph.D., a program director in the Cancer Immunology, Hematology, and Etiology Branch in NCI's Division of Cancer Biology. The two NCI divisions are co-sponsors of the CIP-Net initiative.
According to Drs. Mohammed and Kuo, immunoprevention approaches such as human papillomavirus (HPV) and hepatitis vaccines to prevent infections that cause cancer have been successfully applied to viruses and other infectious agents, but this is only about 15% of human tumors. Therefore, immunoprevention of cancers not driven by infection "remains an outstanding challenge."
Funding for immunoprevention research lags significantly behind that for immunotherapy to treat cancer. Data comparing the two found that immunoprevention awards represented a fraction of the total number of immunotherapy awards from the National Institutes of Health in multi-year projects between 2011 and 2021.
The CIP-Net initiative's justification called for addressing the entire immunoprevention continuum in the future, from early basic discovery and mechanistic research to preclinical and translational research. The CIP-Net defines this task as its aspirational goal.
The network will initially focus on identifying and validating unexplored immunoprevention pathways and targets in high-risk populations, with the potential for the development of immunopreventive interventions and studying the immune mechanisms of cancer prevention.
Board members reacted favorably to the CIP-Net initiative, voting unanimously to approve it. BSA member Luis Diaz, Jr., M.D, head of the Division of Solid Tumor Oncology at Memorial Sloan Kettering Cancer Center in New York, predicted the network "will make a big impact" in the research community and noted it has already attracted tremendous interest and excitement. Others praised the emphasis on further exploring the biology of early malignancy and for beginning to address the current research gap between immunoprevention and immunotherapy.
Exploring Natural Products
The second approved DCP proposal supports discovery and development of new natural products (PDF, 992 KB) that are safe, nontoxic, and efficacious for cancer interception and prevention. Only a small percentage of natural products have been screened and evaluated to date, scientists say, yet advances in robust high-throughput screening (HTS) strategies and medicinal chemistry could alter the pharmaceutical landscape for developing many new cancer interception-prevention strategies in the future.
Dr. Mohammed, who is also involved in this program, cited a "persistent shortcoming in the discovery, screening, and development of novel, naturally occurring agents for cancer prevention." Although many well-known and widely studied natural products like resveratrol, curcumin, and quercetin exert anticancer activity, he said, most lack specificity to their intended biological targets.
However, because a framework for intensifying research efforts already exists, Dr. Mohammed said, grant applicants can take advantage of NCI's large library of "ready-to-screen," pre-fractionated natural products in its Natural Products Branch to accelerate bioassay-directed isolation and characterization of the most promising ones.
NCI currently boasts one of the most diverse libraries of semi-purified natural product samples in the world, numbering 500,000 so far, all of which are available to researchers for further testing. But despite a growing interest in exploring these potential agents, the proposal noted, no programs within NCI now screen natural products for specific clinically relevant pathways or targets for cancer prevention.
"Thus, investment to accelerate the screening of natural compounds for cancer prevention outcomes is warranted and very timely," said Robert Shoemaker, Ph.D., chief of the DCP Chemopreventive Agent Development Research Group.
Among the program's stated goals are the selection of clinically relevant targets; development and validation of assays for bioactivity and toxicity screening applying high-throughput screening and novel technologies using the readily available libraries; full-scale evaluation of screened individual agents; active sample prioritization; and determining the optimal dose for subsequent studies and safety testing. In addition, rigorous milestones and timelines are planned as the projects move forward, with oversight from NCI's staff.
---
If you would like to reproduce some or all of this content, see Reuse of NCI Information for guidance about copyright and permissions. Please credit the National Cancer Institute as the source and link directly to the blog post using the original title, for example: "NCI Funding Approved to Expand Research on Immunoprevention, Natural Products was originally published by the National Cancer Institute." For questions, contact us at CancerPreventionBlog@mail.nih.gov.