Date Posted, by DCP Staff
In the era of personalized medicine, prevention and screening for breast cancer are evolving toward new approaches that assess each woman's risk and lifestyle factors.
All women do not carry the same risk for the same type of breast cancer. The old one-size-fits-all screening method can miss the most aggressive forms of the disease, or result in overdiagnosis of indolent disease.
At the same time, inequities in access to healthcare and the latest treatments mean that too many people die of cancers who otherwise might not. Such gaps in cancer screening across all cancers were emphasized by the President's Cancer Panel in its February 2022 report, "Closing Gaps in Cancer Screening: Connecting People, Communities, and Systems to Improve Equity and Access."
"It's critical that all women have access to breast cancer screening regardless of their geographic location, socioeconomic status, or race/ethnicity," said Brandy Heckman-Stoddard, Ph.D., M.P.H., chief of the Division of Cancer Prevention's Breast and Gynecologic Cancer Research Group. "And that it's the right amount of screening."
Testing Technologies
Etta Pisano, M.D.
The ongoing Tomosynthesis Mammographic Imaging Screening Trial (TMIST) is evaluating whether 2D or 3D screening technologies find breast cancer better in women who have no symptoms. The study is more than halfway to its recruiting goal of about 129,000 participants, with more than 20% of participants in the U.S. representing African Americans. TMIST is being supported by NCI through the National Clinical Trials Network and the NCI Community Oncology Research Program, a nationwide network of community cancer researchers with strong representation in minority and underserved communities.
"TMIST sites are effectively reaching women in their communities, especially women of color, to gain a study population able to provide needed data to move breast cancer screening and health equity forward," said TMIST study chair Etta Pisano, M.D., chief research officer for the American College of Radiology. Recruitment of women from diverse backgrounds ensures that trial results will be applicable across races, ethnicities, and underserved communities.
"Considering the high mortality rates among individuals in these populations, TMIST is on the right track towards helping us understand the predictive factors of breast cancer," said Edith Mitchell, M.D., co-chair of the Health Equity Committee of the ECOG-ACRIN Cancer Research Group, which is leading TMIST. Dr. Mitchell is also a medical oncologist at the Sidney Kimmel Cancer Center in Philadelphia.
"This information will be important to improve early detection for as many women as possible," said Dr. Mitchell.
To help researchers discover ways to tailor future screening to a woman's individual risk, the study is creating a large, curated dataset of breast cancer screening clinical data, images, and biospecimens. The data collected through TMIST will lead to better, individualized screening strategies based on each woman's risk factors. Some women may benefit from less screening, while others may require more intensive screening.
"Wouldn't it be better if we could adapt based on all of our new knowledge and provide individualized recommendations?" asks Dr. Pisano?
Exploring a New Screening Paradigm
Another large, breast cancer screening and prevention trial underway is exploring factors related to the process of screening, rather than the technology. The Women Informed to Screen Depending on Measures of Risk (WISDOM) study, is using a personalized risk assessment plus optional genetic testing to develop a unique breast cancer screening plan for each woman. The WISDOM study is also increasing participant diversity to ensure that findings are generalizable.
Mammography guidelines conventionally have been based on age and self-reported family and reproductive history. However, the WISDOM trial design recognizes a spectrum of disease. Just as clinicians do not treat slow-growing tumors the same as aggressive or fast-growing tumors, so too are researchers in this trial considering that people at risk for these cancers may be different, by using tools that identify the differences and tailor screening accordingly.
The multi-center study is testing a personalized approach to breast cancer screening where a woman's individual risk factors are assessed and a personalized schedule is determined based on that risk. Results of the 5-year trial could change how and when women undergo mammography screening in the future.
The WISDOM trial explores a new screening paradigm that incorporates the idea that breast cancer progression depends "not on an orderly process from early stage disease to death, but on tumor biology and our understanding that breast cancer has evolved from one disease to many," according to Laura Esserman, M.D., M.B.A., the lead investigator and professor of surgery and radiology at the University of California, San Francisco, and director of the Breast Care Center there.
This notion "has to inform how we screen" going forward, she told a workshop at the NCI Division of Cancer Prevention in 2021. "Current screening has not eliminated late cancers and it's increased the identification of indolent disease. It is time for an upgrade, and we need to put the new knowledge we have gained and the tools for risk assessment to work."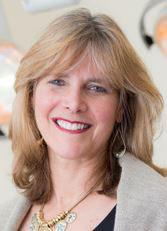 Laura Esserman, M.D., M.B.A.
Dr. Esserman noted that more than 45,000 women in the United States still die every year of breast cancer; it is the second leading cause of cancer death in women after lung cancer; and the leading cause of death for African American women. "So, clearly there's room for improvement," she said.
Over the next 5 years, women participating in the WISDOM trial can choose to be randomized to the usual annual mammography schedule or to a personalized screening schedule based on comprehensive risk assessments that determine the frequency of their breast-screening exams as they age. If uncomfortable with randomization, or if there is a strong preference for one approach over the other, participants can choose their study arm and still contribute data to the study.
Risk analyses in the trial go beyond established risk factors (see box). Women in the personalized assessment arm in the WISDOM study will undergo testing for nine genes associated with significantly elevated breast cancer risk (BRCA1, BRCA2, ATM, P53, PTEN, CHEK2, CDH1, PALB2, and STK11). Additionally, the trial will evaluate 120 genetic snippets or variations called single nucleotide polymorphisms (SNPs). While individually these mutations are thought to carry little risk, taken together as "polygenic risk," this information has been shown to accurately determine level of risk, both higher and lower than average.
In addition, researchers will include the degree of breast density from mammography imaging, as this is another risk factor. The final risk score then will determine when to start screening, when to stop, how often to screen, and with what modality.
For women at low or average risk, the study may show they do not need screening until age 50 years. For woman at very high risk, however, recommended screening would begin at age 40 years with screening every 6 months afterwards, alternating between annual mammograms and annual MRIs, or some strategy in between. Women at very high risk, also would receive individual counseling and information about how to reduce the risk of breast cancer, including through exercise and dietary habits.
Considering Women's Screening Preferences
Ultimately, the WISDOM study is comparing these two differing screening strategies to determine if the personalized approach is as safe, has less adverse events, facilitates preventive interventions in high-risk women, and is preferred by women. To determine if the personalized arm is as safe, investigators are assessing the rate of later-stage cancers (stage 2B or higher) at diagnosis in each of the screening approaches. They also are evaluating the number of false positives and unnecessary biopsies that may arise in each arm, the most frequent problems caused by screening.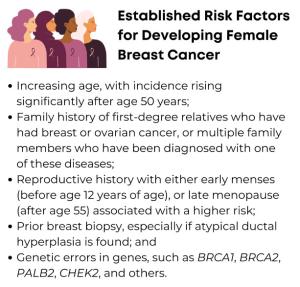 It is surprisingly common for women to be called back after a mammogram, especially if it is their first screen. Approximately 50% of women screened annually for 10 years in the United States will experience a false positive during that time and need to come back for an additional mammogram or other diagnostic workup. About 75% of biopsies turn out to be noncancerous. While that is good news for woman overall, additional testing can prove traumatic and may discourage some women from returning for further screening.
Matching a woman's screening frequency more precisely to her risk for developing breast cancer may help reduce the number of call backs and biopsies, while reducing a woman's anxiety and lowering the costs of unneeded tests—all without compromising the benefit of mammography. In fact, there may be the opportunity to do more for some, while safely doing less for others, easily making up for the added costs of the new technologies.
So far, about 45,000 women, ages 40 to 74 years, have consented to be part of the study, which has a recruitment goal of 100,000. The study is open to any eligible woman online through the WISDOM website.
Initially, more than 80% of the women joining the study were non-Hispanic white women. Wanting to reach a more racially and ethnically diverse populations, the trial, with help from NCI funding, expanded to additional enrollment centers and engaged a dedicated Community Leadership Board. By 2021, the percentage of non-Hispanic white women was reduced to 73%. Rates of Black/AA participants went up from 1.7% to 8.1% in 2021. Participants who are Hispanic/Latino now represent about 10% of the total.
The WISDOM team has been working closely with the Community Leadership Board to identify new community connections, partnerships and opportunities to reach more diverse populations, so the trial can closely reflect the diversity of the United States.
The expectation, given the WISDOM study's broad recruitment structure with enhanced diversity enrollment sites, is that it will help ensure diversity among participants and the inclusion of women who otherwise might not have the opportunity to participate and be represented in the study.
"The outreach methods being used in this study could help improve the recruitment of diverse populations for future cancer screening trials," said Dr. Heckman-Stoddard.
Dr. Esserman stated that the inclusion of women of color, who have the highest rates of lethal breast cancers, is critical. The goal is to reduce the economic or social barriers to appropriate care, including both screening and treatment. "There is an urgent need to make sure we are doing more to address the disparity in outcomes—especially in African American women—and develop better risk assessment tools, especially for those at higher risk for lethal cancers such as triple negative breast cancer," she said.
---
If you would like to reproduce some or all of this content, see Reuse of NCI Information for guidance about copyright and permissions. Please credit the National Cancer Institute as the source and link directly to the blog post using the original title, for example: "Large Studies Evaluating How to Personalize Breast Cancer Screening for All Women was originally published by the National Cancer Institute." For questions, contact us at CancerPreventionBlog@mail.nih.gov.