Date Posted, by Susan Jenks
More than half of cancer survivors who were treated with chemotherapy for the four most common types of cancer experienced clinically significant hearing loss and tinnitus after treatment, according to new research.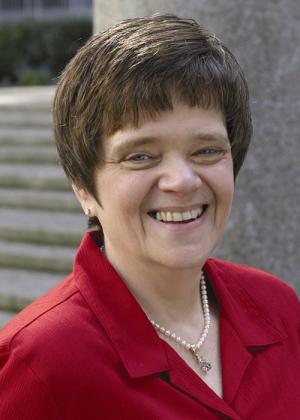 Christine Miaskowski, RN, Ph.D.
The surprise finding emerged from a cross-sectional study published recently in the British Medical Journal Supportive & Palliative Care involving 273 patients, mostly women, who received either platinum- or taxane-containing drug regimens alone, or in combination, for the treatment of lung, breast, gastrointestinal, or gynecologic cancers. Participants were part of a larger study characterizing chemotherapy-induced peripheral neuropathy (NCT01557608).
No matter the dose or whether the two types of drugs were given together, the audiogram-confirmed results of the hearing loss were statistically similar. The study, supported by the National Cancer Institute, also found that up to 40% of survivors experienced tinnitus, a persistent ringing or hissing in the ears, considered a risk factor for hearing loss and a possible symptom for many other health problems.
"We thought there might be differences between the two chemotherapy drugs," and from their combined use, in terms of higher occurrence rates of hearing loss and hearing-loss severity, said Christine Miaskowski, RN, Ph.D., principal investigator of the study and a professor in the Department of Physiological Nursing at the University of California, San Francisco (UCSF). "But our hypothesis turned out to be wrong."
Also surprising, Dr. Miaskowski said, is that she and her colleagues found scant data on chemotherapy-induced hearing loss in published research except in platinum compounds used in pediatric patients and in adults actively under treatment for testicular and head and neck cancers.
"Nobody has really studied this before in these four common cancers," she said, underscoring the need to look at hearing loss further, especially as a possible adverse effect of both platinum and taxane drugs, along with the better-documented chemotherapy-induced peripheral neuropathy. "We know the hearing loss is permanent. What's not known is the relationship between these two adverse effects of neurotoxic chemotherapy." In other words, there is a possibility that hearing loss results from the same kind of nerve damage that causes peripheral neuropathy, and a treatment to block one may work to prevent both adverse outcomes.
In the UCSF study, cancer survivors scoring lower on audiograms than the 50th percentile for age and gender at any hearing frequency were defined as having hearing loss. Before formal hearing evaluations were conducted, only about 17% of study participants were using hearing aids. On average, the participants were 4.5 years past their cancer from diagnosis.
Investigators found that survivors significantly underestimated their own hearing loss, a finding congruent with that seen in the general population. Although 30% of participants self-reported hearing loss at study entry, audiograms, correcting for both age and gender, later revealed more than half of those receiving taxane drugs only and up to 70% of those receiving platinum drugs alone had hearing loss. Researchers attributed this broad discrepancy, in part, to individuals' ability to accommodate for diminished hearing over time.
In the United States, an estimated 30 million Americans ages 12 and older have hearing loss in both ears, which becomes increasingly disabling as people age. Data from the National Institute on Deafness and Other Communication Disorders show that while 2% of adults ages 45 to 54 suffer disabling hearing loss, the rate increases with age. After age 75, that number jumps to 50%.
For tinnitus, which can only be evaluated using subjective measures, investigators say, roughly 10% of Americans, or at least 25 million people, reported bouts of ringing or hearing distortion lasting five minutes or longer in the last year.
In the UCSF study, individuals who reported being consciously aware of their tinnitus for 10 minutes or more of their time awake were categorized as having the condition. Just as with hearing loss, no differences were found among the three chemotherapy groups in the occurrence rates or effects of tinnitus.
Because there's no established threshold for hearing loss from cancer treatment, prevention is not yet possible, according to Dr. Miaskowski. So, clinicians should ask patients if they have symptoms and routinely test them with audiograms prior to and after treatment, she said. "This type of hearing loss is amenable to hearing aids — that's our most important message."
Serendipitously, the U.S. Food and Drug Administration (FDA) announced in August 2022 that it will ease the way to affordable over-the-counter hearing aids that consumers can purchase without a medical exam or a fitting by an audiologist.
The decision culminated efforts dating back to 2017 when Congress first passed a law requiring the federal agency to establish a category for over-the-counter hearing aids. The devices could be widely available as soon as November.
Dr. Miaskowski applauded the FDA action. She said it could provide cost savings as well as benefit to cancer patients and survivors "as long as these hearing aids are of good quality and survivors are taught how to properly use them."
---
If you would like to reproduce some or all of this content, see Reuse of NCI Information for guidance about copyright and permissions. Please credit the National Cancer Institute as the source and link directly to the blog post using the original title, for example: "Common Chemotherapy Drugs Seem to Increase Hearing Loss in Some Adults was originally published by the National Cancer Institute." For questions, contact us at CancerPreventionBlog@mail.nih.gov.