Date Posted, by Linda Wang
After receiving an initial single dose of the HPV vaccine Gardasil 9, children aged 9 to 11 had high levels of two key antibodies that protect against HPV infections and cancer for up to 2 years before receiving their delayed booster dose, according to results from a clinical trial supported by the National Cancer Institute (NCI).
The findings add to growing evidence suggesting that a single dose of Gardasil 9, which protects against nine types of HPV, may be as effective as the standard two-or-three-dose series in preventing HPV16 and HPV18 infections, which cause most cervical cancers, as well as several other cancers, including oropharyngeal cancers and cancers of the genitals and anus. As one of the first studies of its kind to include boys in addition to girls, this evidence contributes to our understanding of what is needed to get more people vaccinated against HPV and prevent more cancers before they start, a key priority of the Biden Administration's Cancer MoonshotSM.
"A single dose of the vaccine could save money, address limited vaccine supplies, and improve HPV vaccine coverage, particularly in low- and middle-income countries," said Vikrant V. Sahasrabuddhe, M.B.B.S, Dr.P.H., of NCI's Division of Cancer Prevention (DCP), who was the lead NCI scientist on this study. "This study adds incrementally to the global evidence on the use of single dose schedules to expand the reach of HPV vaccination uptake to as many individuals as we can."
The trial is the first conducted in the United States to demonstrate that a single dose of Gardasil 9 generates a sustained immune response up to 2 years against the two most prominent cancer-causing types of HPV—HPV16 and HPV18. The study, published July 1 in the American Academy of Pediatrics journal Pediatrics, was conducted by researchers at the University of Arizona, Tucson, and the University of California, Los Angeles, in collaboration with researchers from NCI/DCP and the NCI Frederick National Laboratory for Cancer Research (FNLCR).
"Uptake rates of the full two- or three-shot series of the HPV vaccine have been below our expectations in the United States," said Dr. Sahasrabuddhe. "Further, the same individuals who may not receive HPV vaccines may also be at risk of not accessing regular cervical cancer screening in adulthood because of several barriers to preventive health care. If we don't try to optimize ways to cover every eligible individual with at least one dose of the HPV vaccine, we might continue to have persistent disparities in cervical cancer incidence."
The trial included 201 girls and boys in Tucson and Los Angeles who received an initial single dose of Gardasil 9, followed by a delayed booster shot 2 years later, then an optional third dose 6 months after the booster. Researchers enrolled girls and boys aged 9 to 11 because that age group was unlikely to have been exposed to HPV before they received the delayed booster. Blood samples were collected at the time of the initial dose (baseline) and then every 6 months to measure levels of HPV16 and HPV18 antibodies. All HPV antibody testing was conducted under the direction of Ligia Pinto, Ph.D. at the FNLCR HPV Serology Laboratory.
The initial dose of Gardasil 9 led to an expected rise in antibodies that respond specifically to HPV16 and HPV18 over the first 6 months, followed by tapering of levels at 12 months. Then between months 12 to 24, levels of antibodies stabilized, yet were almost 10- to 20-times higher than levels seen at baseline. The delayed booster shot given at 2 years led to an expected surge in HPV16 and HPV18 antibody levels, reflecting a robust immune memory despite the 2-year delayed interval of boosting. The study found no difference in antibody response between girls and boys.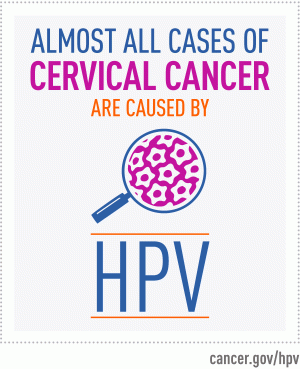 Research has been ongoing to determine whether a single dose of HPV vaccine provides a similar amount of protection against HPV infections and cancers as two or more doses. Prior studies conducted in Costa Rica, India, Kenya, Tanzania, and other countries, have suggested that a single dose of HPV vaccine can provide lasting protection against HPV16 and HPV18 infections. In December 2022, the World Health Organization updated its guidance on HPV vaccination schedules, recommending a one- or two-dose vaccination schedule for girls aged 9 to 14 and for girls and women aged 15 to 20. The Centers for Disease Control and Prevention (CDC) still recommends that children aged 11 to 12 get two doses of the HPV vaccine, 6 to 12 months apart, starting as early as age 9.
Dr. Sahasrabuddhe highlighted the significance of including boys in this trial, because many cancers caused by HPV also occur in males—including oropharyngeal cancers and anal and genital cancers—and males can also transmit the virus. HPV vaccination recommendations in the U.S. are gender neutral. Other studies on the effectiveness of a single-dose HPV vaccine in preventing HPV infections have only included girls. The new findings also suggest that deferring the booster shot for 2 years may be acceptable, especially during vaccine supply shortages.
Longer-term data are needed, Dr. Sahasrabuddhe said, to evaluate the effectiveness of a single dose of Gardasil 9 on immune responses beyond 2 years, as well as immune responses to the other HPV types in the vaccines, analyses of which are currently underway. The investigators are conducting a follow-up extension study through DCP's Cancer Prevention Clinical Trials Network (CP-CTNet) to see if antibody levels remain high up to 6 years following the delayed booster shot. Other efforts supported by DCP are focused on evaluating immune responses after variations in dose schedules of Gardasil 9 in individuals at high risk of HPV-related cancers, including immunosuppressed transplant recipients and children and adolescents living with HIV. Meanwhile, other trials, including a randomized double-blinded trial of more than 20,000 girls in Costa Rica, are testing whether one-dose HPV vaccination is as effective as two doses at preventing persistent HPV infection, as a surrogate of cervical cancer risk. Results of the NCI-funded Costa Rica trial are expected in 2025.
Reference: Y Zeng, A-B Moscicki, H Woo, et al. HPV16/18 antibody responses after a single dose of nonavalent HPV vaccine. Pediatrics. 2023 Jul 1;152(1):e2022060301.
---
If you would like to reproduce some or all of this content, see Reuse of NCI Information for guidance about copyright and permissions. Please credit the National Cancer Institute as the source and link directly to the blog post using the original title, for example: "U.S. Study Shows HPV Antibodies Remain High Up to 2 Years After a Single Dose of HPV Vaccine was originally published by the National Cancer Institute." For questions, contact us at CancerPreventionBlog@mail.nih.gov.