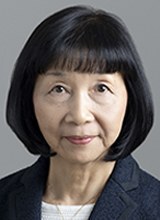 Shizuko Sei, M.D.
Co-Chief Program Officer Contracting Officer Representative | Chemopreventive Agent Development

Email: shizuko.sei@nih.gov
Phone: 240-276-5005
Room: 5E452
Biography
Dr. Shizuko Sei (formerly Shizuko Aoki) is a medical officer with over 27 years of translational and clinical research experience in the field of cancer and AIDS. After completing her pediatric oncology fellowship at NCI Center for Cancer Research (CCR), she held various positions in the CCR and Division of Cancer Treatment and Diagnosis (DCTD) before joining the DCP in July 2015. As a laboratory head and principal investigator at CCR and DCTD, she directed a number of multidisciplinary research projects focused on viral oncology, pathogenesis of HIV immunodeficiency, therapeutic AIDS vaccine, and novel drug discovery and development for HIV and AIDS-associated malignancies. Concurrently, she conducted pediatric AIDS clinical trials at the NIH Clinical Center as a principal or adjunct clinical investigator. More recently, she managed the contract research program in support of the NCI Experimental Therapeutics Program (NExT), whose mission is to advance and bring improved therapies to cancer patients.
Her current research interest centers on better understanding of the host-tumor and host-pathogen interactions in the tumorigenic process and development of molecular-targeted or immune-mediated cancer preventive agents. In her current capacity, Dr. Sei manages the PREVENT Cancer Program operation and oversees immuno- and chemo-prevention projects in the Program pipeline as a project officer/COR. She also supports the DCP Consortia as a medical monitor.