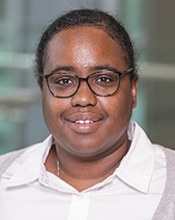 Shanen Sherrer, Ph.D.
Fellow | Office of the Director

Email: shanen.sherrer@nih.gov
Phone: 240-276-7296
Room: 5E414
Biography
Dr. Sherrer is a AAAS Science and Technology Policy Fellow working out of the DCP OD for the next year. 
Shanen M. Sherrer earned a Bachelor of Science in Biochemistry with a minor in Statistical Methods from Miami University and a Ph.D. in Biochemistry from The Ohio State University. Her research experiences include determining mutagenic profiles and pre-steady state kinetic characteristics of error-prone DNA replication, and studying the molecular mechanism of the human DNA mismatch repair pathway. As a faculty member at St. Mary's College of Maryland, she normally teaches undergraduate courses and manages a research group that studies the impact of environmental pollutants on DNA-protein interactions. As an AAAS STPF fellow, Shanen will be working within the Division of Cancer Prevention at the National Cancer Institute (NCI), sharing her scientific knowledge while working on various projects.