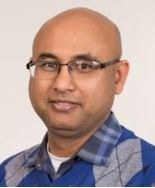 Kajal Biswas, Ph.D.
Program Officer | Chemopreventive Agent Development

Email: kajal.biswas2@nih.gov
Phone: 240-276-5614

Biography
Kajal Biswas, Ph.D., serves as a Program Director and Contractor Officer's Representative (COR) in the Chemopreventive Agent Development Research Group (CADRG), Division of Cancer Prevention (DCP), National Cancer Institute (NCI). Dr. Biswas joined CADRG in 2022, following a 17-year research career in hereditary cancers.
Dr. Biswas's research interests include hereditary breast and ovarian cancer, Fanconi anemia, and Lynch syndrome. He has worked extensively on development and characterization of genetically engineered mouse models for hereditary cancers. Dr. Biswas also worked on functional assay development for understanding the significance of variants of unknown clinical significance identified in breast cancer genes BRCA1 and BRCA2, to reduce breast cancer mortality through prevention and early diagnosis.
Dr. Biswas earned his Ph.D. in Biology from Julius-Maximilians University of Wuerzburg, Germany, before moving to the Center for Cancer Research at NCI for a postdoctoral fellowship. After completing his fellowship, he joined the Department of Microbiology and Howard Hughes Medical Institute at University of California, Davis, as a project scientist. He then joined the Center for Cancer Research at NCI as a staff scientist for nine years before joining DCP.