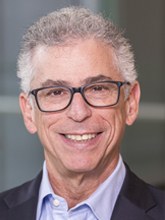 Howard L. Parnes, M.D.
Chief Program Officer Contracting Officer Representative | Prostate and Urologic Cancer

Email: howard.parnes@nih.gov
Phone: 240-276-7045
Fax: 240-276-7828
Room: 5E302
Biography
Howard L. Parnes graduated from Cornell University with a BA in Biology, received his M.D. from the University of Medicine and Dentistry of New Jersey and completed a residency in internal medicine at the Johns Hopkins Bayview Medical Center (formerly Baltimore City Hospitals).  After a medical oncology fellowship at the University of Maryland Cancer Center (UMCC) and 8 years as a clinical researcher on the UMCC faculty, Dr. Parnes joined the Division of Cancer Prevention, NCI where he has overseen the genitourinary cancer prevention program since 2001.  During that time he served on the Steering Committees for PCPT and SELECT, the two largest prostate cancer prevention trials conducted to date.  A board-certified physician in internal medicine and medical oncology, Dr. Parnes continues to see patients with prostate and bladder cancer at the NCI Clinical Research Center where he participates in phase I and II cancer treatment trials and counsels men with newly diagnosed prostate cancer regarding the wide range of options currently available to them.  Dr. Parnes has authored over 100 peer-reviewed publications and serves on the editorial board of Cancer Prevention Research.