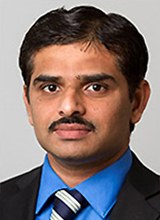 Altaf Mohammed, Ph.D.
Program Officer Contracting Officer Representative | Chemopreventive Agent Development

Email: altaf.mohammed@nih.gov
Phone: 240-276-6082
Room: 5E554
Biography
Dr. Altaf Mohammed serves as a Program Director and COR for the Chemopreventive Agent Development Research Group (CADRG), Division of Cancer Prevention (DCP), National Cancer Institute (NCI). Dr. Mohammed obtained his Ph.D. in Microbiology from India before moving to the Department of Medicine at University of Oklahoma Health Sciences Center (OUHSC) in Oklahoma City for a post-doctoral fellowship in carcinogenesis and cancer chemoprevention.  Dr. Mohammed advanced to a faculty position and pursued research in cancer chemoprevention at OUHSC.  He also served as Experimental Bioassay Director at the Center for Cancer Prevention and Drug Development, Stephenson Cancer Center at the OUHSC for 8 years.
Dr. Mohammed's research interests have focused on identification of molecular targets and development of effective chemopreventive & immune modulating agents and their regimens for prevention of colon and pancreatic cancers using preclinical in-vivo (carcinogen-induced, genetically engineered and transgenic) rodent models and establishing agents' mechanisms of action. His research also focused on understanding role of cancer stem cells, and core mucin synthesizing genes and mucins in pancreatic cancer. Dr. Mohammed is one of the first investigators to optimize genetically engineered mouse model for pancreatic cancer chemoprevention research.
Dr. Mohammed has over 10 years of experience working in cancer chemoprevention and drug development. Dr. Mohammed joined CADRG in DCP, NCI in January 2017.