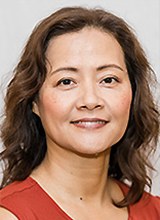 Claire Zhu, Ph.D.
Program Officer Contracting Officer Representative | Early Detection

Email: claire.zhu@nih.gov
Phone: 240-276-7013
Room: 5E106
Biography
Dr. Claire Zhu is a program director in the Early Detection Research Group of the Division of Cancer Prevention at the NCI, where she coordinates the Etiologic and Early Marker Studies Program (EEMS) in the Prostate, Lung, Colorectal and Ovarian Cancer Screening Trial (PLCO), as well as manages a grant portfolio in early detection research.
Before joining the NCI in 2005, she was a Senior Consultant at Booz Allen Hamilton, where she worked with various government programs in the bio-defense area. Prior to Booz Allen Hamilton, Dr. Zhu worked for Celera Genomics and Gene Logic. She was a member of the scientific team at Celera that completed and published the human genome sequence in 2001. While at Gene Logic, Dr. Zhu worked on biomarker development for cancer diagnostics and drug targets.
Dr. Zhu obtained her Ph.D. in Biology from the Johns Hopkins University, where she studied the molecular mechanism of cell migration and neural development in C. elegans. She conducted her post-doctoral research in neuronal differentiation and maturation in the Laboratory of Molecular Biology at the National Institute of Neurological Disorders and Stroke (NINDS).