Date Posted, by Philip E. Castle, Ph.D., M.P.H.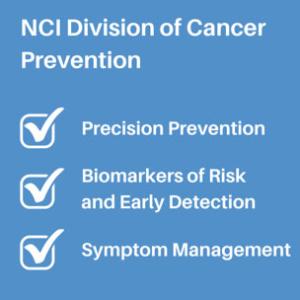 A year ago, I said that coming on board as the Division of Cancer Prevention Director in July 2020 was a "challenge," adding that I had faith in science that the pandemic would be solved soon. Science has brought us a vaccine against SARS-CoV-2 and medicine to treat the disease, but we still aren't all together in the workspace or many other places. We all look forward to that day.
Despite the challenges that continue to keep us physically apart, I think we are philosophically together in our desire to prevent cancer. Our mission hasn't changed, and our motivation hasn't changed. We even updated our Division mission statement to make our intentions clear:
The Division of Cancer Prevention furthers the mission of the National Cancer Institute by leading, supporting, and promoting rigorous, innovative research and training to prevent cancer and its consequences to improve the health of all people.
We are innovating and striving to prevent both cancer and the inequities that accompany it, and I believe the past year has shown that cancer prevention, detection, and supportive care research is hard at work, pushing the bar forward.
This past year, we had key, DCP-supported scientific advances published including:
This coming year promises even more great science. Overall, we have three broad areas we want to focus on now, and in the future. One is identifying "druggable" targets for preventive drugs and developing the drugs. To that end, we have launched new projects and programs:
Next are biomarkers of cancer risk: we need to know in a definable way, who is at risk for cancer and how strong is that risk? We want to combine the knowledge of this risk, with an appropriate agent to reduce the risk based on what we know about the individual. Projects in these areas include:
DCP Director, 
Philip E. Castle, Ph.D., M.P.H.
Finally, we need to improve symptom management in those with cancer who are in treatment. While it is a long-standing part of the division's portfolio, Division of Cancer Prevention is a name that does not suggest we have symptom management in our portfolio. Yet, we need to better understand the biology behind a person's symptoms due to cancer, and their response to treatment–bringing better care to most vulnerable, cancer patients. To that end, we support a number of funding opportunities to answer a wide range of critical questions, including:
As I have said recently in an editorial in STAT, cancer prevention uses the same tools that are being used effectively to combat COVID-19: avoidance, screening and treatment, and vaccination. Many of the challenges we face in dealing with COVID are the same as those we face with preventing cancer.
Every year 1.8 million Americans get diagnosed with cancer and 0.6 million Americans die from cancer; globally, there are 18 million cancers and 9 million related deaths annually. We must renew our efforts to develop new and better cancer prevention and symptom management strategies, anchored in the best science and demonstrated through evidentiary research, which work for and reach all Americans and people globally. Although the challenges are great, the rewards are even greater.
---
If you would like to reproduce some or all of this content, see Reuse of NCI Information for guidance about copyright and permissions. Please credit the National Cancer Institute as the source and link directly to the blog post using the original title, for example: "A Message from the Director: A Year of Making the Cancer Prevention Intention Clear was originally published by the National Cancer Institute." For questions, contact us at CancerPreventionBlog@mail.nih.gov.