Date Posted, by DCP Staff
Research Highlights are a new type of blog for Cancer Prevention Science, where recent publications are highlighted rather than a traditional news story.
This month's blog post highlights how a cruciferous vegetable extract reduces toxins from tobacco and reports the effects of Polyphenon E in green tea on rectal aberrant crypt foci.
Randomized Crossover Trial Evaluating Detoxification of Tobacco Carcinogens by Broccoli Seed and Sprout Extract in Current Smokers
A randomized trial evaluated the consumption of broccoli seed and sprouts extract (BSSE) and their ability to reduce the risk of tobacco-related cancers, specifically regarding head and neck squamous cell carcinoma (HNSCC). HNSCC can occur in the mouth, nasal cavity, nasopharynx, larynx, or hypopharynx, and can spread to other parts of the body such as the lungs or lymph nodes.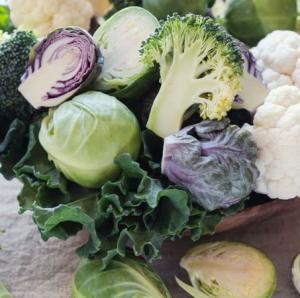 Cruciferous vegetables include broccoli, cauliflower, cabbage, kale, bok choy, arugula, brussels sprouts, collard greens, watercress, and radishes among many other varieties. These vegetables are rich in isothiocyanate glucoraphanin, a sulfur-containing chemical associated with reducing these types of cancers. The trial evaluated detoxification of carcinogens by two doses of BSSE in 49 healthy tobacco smokers.
Participants of the trial were treated for two weeks – with a two-week washout in between – with both a lower and higher dose of BSSE. Of the two doses of BSSE, the higher dose proved to significantly upregulate urinary excretion – the primary route in which the body eliminates substances through the kidneys – of mercapturic acids. A longer study is being planned to explore longer exposures to BSSE but has not yet opened. (NCT05121051)
Isothiocyanates have been found to inhibit the development of various cancers in organs in rats and mice such as the bladder, breast, colon, liver, lungs, and stomach. In humans, however, results can vary. While some studies have found that cruciferous vegetables could reduce the risk of prostate, lung, colon, and breast cancers, others have shown little to no association with reducing cancer risk.
Reference: Bauman JE, Hsu C-H, Centuori S, et al. Randomized Crossover Trial Evaluating Detoxification of Tobacco Carcinogens by Broccoli Seed and Sprout Extract in Current Smokers. Cancers 2022, 14(9), 2129
Randomized Phase II Trial of Polyphenon E versus Placebo in Patients at High Risk of Colon Cancer Shows No Effect
Polyphenon E (Poly E), a green tea polyphenol preparation, is being studied for its cancer preventive efficacy and safety in subjects with rectal aberrant crypt foci (ACF). With colorectal cancer being the third most common cause of cancer-related death in the United States, this study [NCT01606124] examined Poly E's effects on ACF, a potential surrogate endpoint biomarker of colorectal cancer.
Green tea is made from unfermented leaves of Camellia sinensis, a plant native to Asia. Currently, there is not enough reliable evidence to support the idea that green tea can prevent certain cancers; however, it has been promoted to help control blood sugar, cholesterol, blood pressure, and weight.
Eighty-two percent of subjects who participated in this study completed six months of Poly E oral treatments or a placebo on a daily basis. Among these subjects (15 who took Poly E, 17 who took placebo), the change in percentage in rectal ACF did not significantly change between study arms, and total burden and adenoma recurrence rates were similar, as well. Additionally, adverse effects didn't differ significantly by arm.
The lack of significant difference in those with the Poly E arm versus the placebo suggest that Poly E is well tolerated but is not effective in reducing rectal ACF within a six-month period.
Overall, studies of green tea and green tea extracts to prevent cancer have had inconsistent results. The National Cancer Institute does not recommend for or against its use to reduce the risk of cancer.
Reference: Sinicrope FA, Biggiano TR, Buttar NS, et al. Randomized Phase II Trial of Polyphenon E versus Placebo in Patients at High Risk of Recurrent Colonic Neoplasia. Cancer Prev Res (Phila) (2021) 14 (5):53-580
---
If you would like to reproduce some or all of this content, see Reuse of NCI Information for guidance about copyright and permissions. Please credit the National Cancer Institute as the source and link directly to the blog post using the original title, for example: "Research Highlights: Recently Published Studies on Compounds from Foods and Their Effect of Cancer Risk Measures was originally published by the National Cancer Institute." For questions, contact us at CancerPreventionBlog@mail.nih.gov.