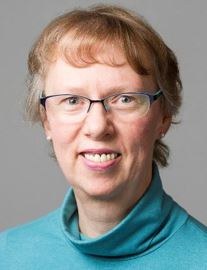 Jo Ann Rinaudo, Ph.D.
Program Officer | Cancer Biomarkers

Email: joann.rinaudo@nih.gov
Phone: 240-276-7133
Fax: 240-276-7845
Room: 5E612
Biography
Dr. Jo Ann Rinaudo is a Program Director in the Cancer Biomarkers Research Group in the Division of Cancer Prevention at the National Cancer Institute. She received a doctoral degree from the University of Toronto, where she studied chemical carcinogenesis in the liver. She was in the pathology department and has a broad background in human disease. Post-graduate training included further studies on the cell cycle during liver regeneration and cancer. She was an Assistant Professor at Georgetown University, where her research focused on changes in gene expression during virally induced hepatocarcinogenesis. After leaving Georgetown University, she became a Patent Examiner at the U.S. Patent and Trademark Office, specializing in the review of immunotherapy patent applications.
Before joining the National Cancer Institute, Dr. Rinaudo was a Scientific Review Officer at the National Institute of Allergy and Infectious Diseases and gained experience about the NIH review system. As Program Director in the Division of Cancer Prevention Cancer Biomarkers Research Group, she manages gastroenterology-associated grants. Her scientific interests include cancer development; early detection; progression; the immune system in cancer. She also continues to follow the field of liver cancer research.
Research Interests
Cancer development
Early detection Progression
Immune system in cancer
Liver cancer research