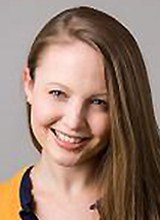 Ann Maxson, M.S.
Learning & Development Specialist | Cancer Prevention Fellowship Program

Email: ann.maxson@nih.gov
Phone: 240-276-5877
Room: 2W136
Biography
Ann Maxson is a Learning & Development Specialist with the Cancer Prevention Fellowship Program (CPFP). Through various evaluation, design, development, and implementation efforts, she manages a portfolio of CPFP training activities supporting the scientific and professional growth of fellows. Previously, Ann was a postbaccalaureate fellow with the CPFP, where she received real-world training in instructional coordination and program evaluation strategies. She has a background in classroom instruction and stage performance and has taught in both high school and professional theatre environments. Ann received her Master's in learning technologies and design, with an online educator graduate certificate, from the University of Missouri. She received her undergraduate degree in secondary education and theatre from Drury University.