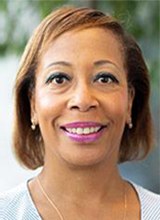 Alexis Bakos, Ph.D., M.P.H., R.N.
Program Director | Community Oncology and Prevention Trials

Email: alexis.bakos@nih.gov
Phone: 240-276-6609
Room: 5E438
Biography
Alexis D. Bakos, Ph.D., M.P.H., R.N., is Program Director of the Supportive Care and Symptom Management portfolio in the Division of Cancer Prevention, Community Oncology and Prevention Trials Research Group, where she oversees extramural research on the prevention or treatment of acute and chronic symptoms and morbidities related to cancer and treatment interventions. In addition, Dr. Bakos assists in the management of the NCI Community Oncology Research Program (NCORP).
Dr. Bakos has worked in a number of research positions within the federal government, including serving as Chief of the Diversity Training Branch within the Center to Reduce Cancer Health Disparities (NCI) where she coordinated the management of programs designed to improve the diversity of the cancer research workforce and served as Program Director at the National Institute of Nursing Research, NIH, where her responsibilities included scientific areas related to end of life/palliative care, informal caregiving, and long-term care. She also chaired the NIH End of Life Scientific Interest Group.
Dr. Bakos received a B.S.N. and an M.S.N. from The Catholic University of America, an M.P.H. from George Washington University, and a Ph.D. from Johns Hopkins University. Her education also included three years of postdoctoral training as an NCI Cancer Prevention Fellow. Dr. Bakos served on the U.S. House of Representatives Health and Long-Term Care Subcommittee as a Congressional Black Caucus Foundation Fellow and served as Congressman Edward Roybal's Health Legislative Assistant on the House Select Committee on Aging.